Dallas Furniture Online
Regular price
Sale price
$50.00 USD
Unit price
per
Sale
Sold out
With our "Assembly and Set Up" service, our team will take the items out of the packaging and will assemble all of the items in your order that require assembly. We will also arrange the furniture in your desired set up.  Our "Assembly and Set Up" service applies only to furniture purchased and delivered from Dallas Furniture Online.

Please make sure that there is room for the newly delivered furniture to be assembled and set up in the place where you are wanting it to go. (example: if you order a new living room set and want it dropped off in your living room, please make sure that your current living room set is not in the living room when we arrive.)

We will not move existing furniture that is already in the home from one room or place to another to make room for your new furniture. We also will not remove or dispose of any furniture that you are needing to get rid of.

If this service is purchased and we arrive and there is not room that is required for us to properly assemble and set up the furniture, we will not be able to complete the assembly and set up. There will also not be any refund/credit given due to us not being able to perform the task. When this option is selected, the amount of time that your delivery and assembly will take is considered when determining our time frame for the day and the amount of deliveries that we scheduled for that day.

We will not take the trash with us.

If we are delivering to an apartment, we will take the trash to your apartments dumpster or trash room. If there is not enough room in the dumpster or trash room, it will be left by the dumpster or outside of the trash room.

If we are delivering to a non apartment residence, we can leave the trash in the designated bulk trash pick up area. We can also leave in the garage if you have one.
If these trash options do not work for you, please either leave a note in the "comment" section during checkout or reach out to me by phone, text email prior to the day of delivery and request trash removal. There is a $50 fee for this, and it will be paid directly to the delivery team. It must be paid in cash or Venmo.
Share
View full details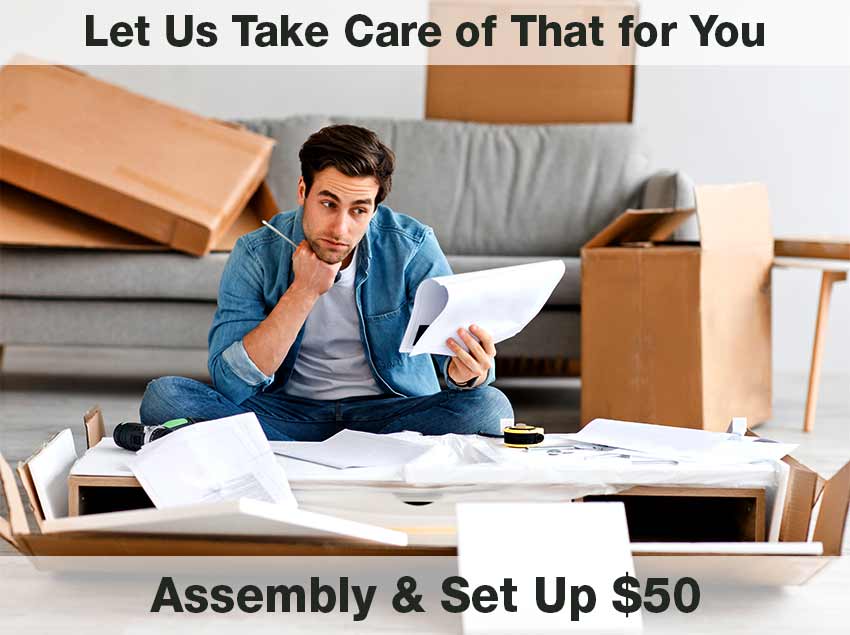 Assembly & Setup
If you need our experienced team to assemble and setup your furniture at time of delivery click here.

One $50 service fee covers your entire order.
Order Assembly